Installing tiles onto the walls and floors of any room is one of the last steps towards achieving a nice look for your space. However, the job isn't completely over unless you have installed tile trims.
Tile trims are used to finish off the edges of a tiled space. They make the room appear tidier and more professional.
Types Of Tile Trims
Incorporating tile trims into your tiles can be a challenge when you don't know what your options are. To help, let's explore some options for tile trims that you can select from.
– Bullnose Tile Trims
These tile trims provide a smooth finished edge to your tile. They eliminate any visible sharp edges or unfinished edges on both floors and walls.
– Edge Glaze
These are a great option if you like the style organic tile edges offer. They allow the tiles to transition into the rest of the room naturally.
– Chair Rails
Just like the name, this tile trim prevents chairs from scuffing the walls as it works as a chair barrier.
– V-Caps
These are used to completely cover perpendicular corners.
– Flatliners
They are flat and great for lining floor tiles.
– Pencil Liners
These help to transition from one shape tile to another. They are also used to transition from the tiles to an exposed wall.
– Quarter Rounds
Quarter rounds are good tile finishings for smoothing and scaling an exposed perpendicular edge. They are commonly used in bathrooms and shower dividers.
– Plastic Tile Trims
Plastic tile trims are a great way to neatly cover up unfinished edges and ceiling tiles from water damage. There are different types of plastic tile trims such as plastic edge tile trims, square edge tile trims, and straight edge tile trims among others. They also come in a range of colours such as white, cream, brown, black, beige, ivory, grey, and caramel.
– Aluminum Tile Trims
Aluminium tile trims are perfect for exterior use. Take for instance the Matt Anodised Aluminum square edge tile trim. It gives off a matte finish that protects the rim from corrosion and oxidation when exposed to outside conditions. For this reason, they are suitable for areas that are constantly submerged in water such as swimming pools and bathrooms which always come in contact with water.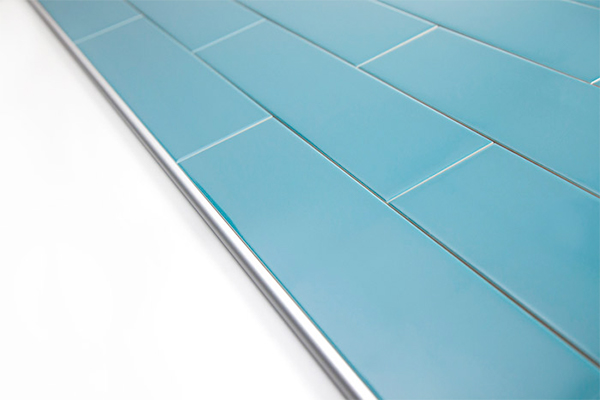 Why You Should Opt For Tile Trims
By selecting from any of the mentioned tile trims, you can enhance your projects by:
·  Adding Finishing Touches
Most of these tile trims can transform any place in a room such as a fireplace, kitchen, and bathroom walls, for example.
·  Polishing Off Your Bathroom & Kitchen Tiles
These tile finishings can create contrasting borders on countertops and backsplashes. Go for the bullnose or counter rail tile if you prefer a streamlined look and clean finish.
·  Define Spaces
They come in smooth, carved, and textured styles that help draw light onto any area. For example, you can create a border that looks different but is complementary to your floors.
·  Connect Inside Space To The Outside
Tile trims allow you to create a floor design between the indoor and outdoor areas especially when similar tiles are used.
Bottom Line
Choosing the right tile trims will give sophisticated finishes to your tiles making them look professional, whether you want to connect the outdoors to the indoors or simply have a blend of different tiles. Tile trims will help you achieve this. 
If you would like to find out more about how we at Elstow Tile Warehouse can help you find the perfect tile trims for you, please get in touch on 01234 263080 or head over to our contact page for more details.