Ceramic tiles are probably the most versatile type of tiling used within the home as they can be used in almost any room. Most commonly seen in the bathroom or the kitchen they are also used in foyers and hallways and countries with warmer climates. Ceramic tiles can even be used in bedrooms, however, they can be cold to the touch so this might not be ideal for countries with a cooler climate.
Ceramic Tiles Vs Porcelain Tiles
Ceramic tiles are sometimes referred to as porcelain tiles, although there are differences between the two. The most obvious difference is that porcelain tiles only absorb 0.5% of water, but ceramic tiles can absorb more as they are made of less dense clay. Ceramic tiles can have a hard surface known as a glaze that doesn't hold onto household pollutants such as dirt, pollen or dust, and doesn't allow water to be absorbed.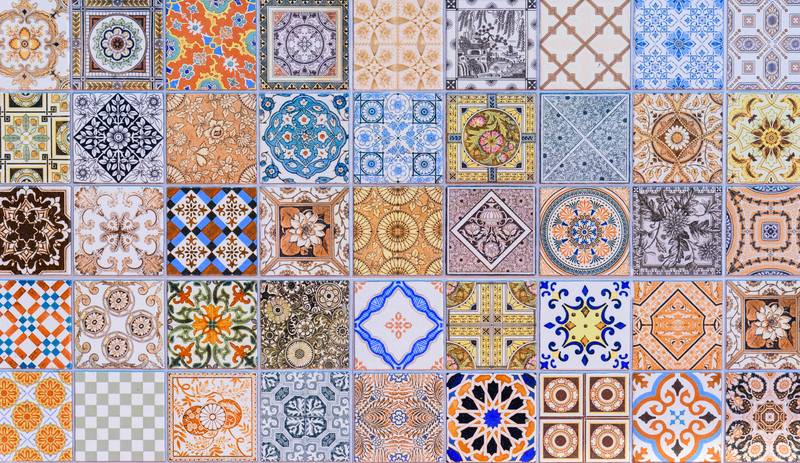 This glaze also stops water or other liquids from staining the surface of the tile. Because of this hard surface, they are easily cleaned with a mop or cloth making them very low maintenance. It is possible to choose ceramic tiles without a glaze but they must be sealed to protect them from liquid damage.
What Are Ceramic Tiles Made From? 
Ceramic tiles are made from red, brown, or white clay which isn't too dense and is quite soft. The tiles can be shaped into very intricate designs and are easier than porcelain for the home DIY'er to install because they are easily cut and shaped to suit the layout of a room. The installation process includes fitting a cement board (sometimes known as a tile backer) first that the tiles are then bonded to. Once they've been positioned grout is used to seal between the tiles.
The modern manufacturing process allows ceramic tiles to be made with motifs, patterns, or even custom designs as required to give you a huge degree of individuality. The tiles can also be made to replicate stone or hardwood finishes meaning they are perfect not just for flooring but for fitting on walls too. Ceramic tiles are made to a specific set of standards known as the porcelain enamel institute rating (PEI). Most ceramic tiles fit into either category three or four, meaning they are recommended to be used in areas with light to moderate traffic such as domestic flooring. They're also usable in moderate to heavy traffic areas such as domestic flooring and light commercial flooring. It's always worth double-checking the PEI rating of your tiles before committing to a purchase to know you're getting the best quality and a tile recommended for your intended application.
There are a few small drawbacks with ceramic tiles, as with any tile. They don't retain heat well, so they will be cold in the winter, although under-floor heating will solve this. They can also be hard to stand on for long periods so consider using rugs or mats in areas where you'll be standing for long periods. Ceramic tiles also aren't suitable for outdoor applications as they will crack in cold weather.
If you would like to find out more about how we can help you, get in touch with our friendly team today on 01234 263080 or head over to our contact page for more contact details.