Your bathroom is a space which, naturally, is going to see plenty of foot traffic. Therefore, the bathroom tiles you pick for your flooring are always going to be important. But how do you know which options are likely to work best for you in the long run? It's all well and good to lead with style, however, floor tiles are going to need to work harder for you than you may initially imagine.
In this guide, we're going to look at a few things you should consider when looking for the best bathroom tiles in the business.
Guide to the Perfect Bathroom Flooring 
Consider Quality and Wear
While the look and design of your bathroom floor tiles are important, you should be focusing on durability and wear and tear potential. Think about how often you're going to be walking across these tiles!
You're therefore going to need to look for floor tiles which are unlikely to shatter or break apart. If that happens, it could cause you or your loved ones serious injury or harm! Therefore, consider the two main types of tile out there – ceramic and porcelain. Both, when laid properly, will withstand a lot.
Consider Built for Purpose
It's tempting to consider using any tiles you might find in your local shops as flooring tiles. However, if you use those which are built for wall grouting, or even for kitchens, this is not a good idea. You're going to, again, risk injury. These tiles are not built to carry human weight, which means that while they might look great, they're hardly going to withstand the daily pressures you're going to put them under.
Therefore, make sure to only ever shop from ranges of specific bathroom floor tiles. This way, you can ensure that you're buying from collections built for that purpose – and that they're never going to splinter apart purely as a result of a little bit of pressure or weight.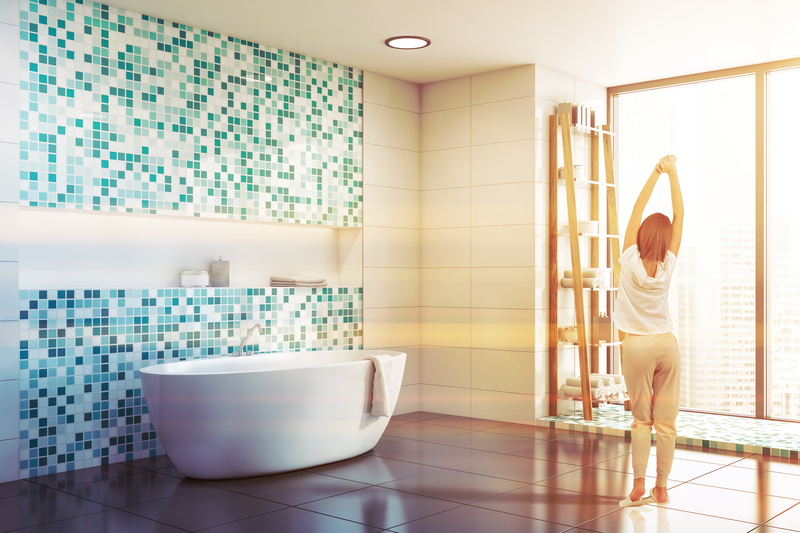 Consider Your Whole Bathroom
Of course – we're going to get to look at one point or another! However, when you start thinking about the look of your floor tiles, you're going to need to take your whole room into account. Look for bathroom floor tiles which complement your space, not distract from it. Therefore, while you might think that fancy mirrored tiles are going to look great in a predominantly wooden bathroom, they're probably only going to distract from the overall look, aesthetic, or theme of your space.
Therefore – as you can see – it's a little trickier than you might think to get the right bathroom floor tiles for your space! However, with the best experts by your side to help out, it really doesn't have to be that way. Take your time looking through the best collections and resources, and start thinking carefully about the look and support you could stand to benefit from.
We hope that our blog has been helpful if you have any questions please don't hesitate to get in touch on 01234 263080 or alternatively drop us an email at showroom@ceramictilesupplies.co.uk.