As we all know, deciding on the right flooring for your house can be very difficult. When choosing the best flooring for your bathroom the decision is no easier. When choosing bathroom flooring there are lots of things that you have to consider, how will your new bathroom look and how will the flooring perform under stress of water and in some cases lots of it. Moisture can quickly ruin flooring if it is absorbed and therefore can ruin the ceiling below too, leaving watermarks. We have got together some different types of tiles that you could possibly choose for your bathroom.
The Best Bathroom Tiles to Have in Your Bathroom
Porcelain tiles
With porcelain tiles you get the best of both worlds, as it is waterproof, therefore, the issue above wouldn't happen, and they are stylish and most importantly cost-effective. You can find variations like stone porcelain tiles, these can achieve a rich textured solid feeling.
Stone tiles
Tiles made from stone have grown to be more popular for use in bathrooms. They are mainly made from marble, granite, limestone or slate. They are also available in a variety of colours and textures which offers individuals a good range to choose from. Stone tiles require regular cleaning as well as re-sealing. Stone flooring can be very slippery when it gets wet but is waterproof and won't cause any issues if a large amount of water is on the floor.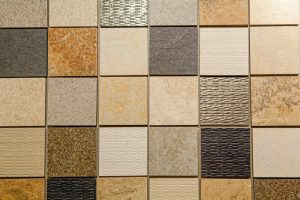 Vinyl tiles
Vinyl tiles are the most popular choice for bathroom floors. This is due to their practicality and they are relatively cheap. It is perfectly suited for any bathroom in the house. Lots of people also choose vinyl flooring due to the fact that it won't let water seep through. Vinyl flooring is very water-resistant this would be a great option for children's bathrooms or maybe even laundry rooms.
Plastic laminated tiles
These are also a good choice for bathroom floor tiles, more specifically when completely redesigning your bathroom. They do not raise the height of the floor that is down at present. They are also more durable and very easy to clean. However, these tiles don't contain a lot of variety and styles compared to the other types of bathroom tiles.
Engineered wood
Engineered wood is better than solid wood under high pressure and moisture conditions. Engineered wood has a plywood base that holds up well against moisture. If you wish for a more natural look in your bathroom and would like to use wooden flooring, engineered wood is definitely your best option.
It is important to choose floor tiles that can work well with your bathroom. However, safety and comfort should be kept in mind when choosing the best floor tiles. we hope that our blog was helpful and aided you in deciding on what bathroom tile you are going to choose. If you have any questions, please don't hesitate to give us a call on 01234 263080 or alternatively head over to our contact page and fill in the online enquiry form.