Small bathrooms usually have a slight disadvantage for not allowing as much space as you'd need to design. When working with particularly small spaces, the idea is to create an illusion that makes them appear bigger. It will sometimes take the expertise of an interior designer and/or architectural visualiser who can provide a visual representation of the desired outcome to create the illusion. 
However, more than getting convinced about the look of a bathroom, materials such as tiles used in achieving both the illusion and design matter. Here are 7 bathroom tile ideas that work for small bathrooms.
Tile Laying and Placement
For small bathrooms, how you lay your tiles make the difference. Diagonally laying bathroom tiles will give the floor or walls a stretched out illusion upon visualising, an effect you don't get when who look at square laid tiles. Other placement options would be to lay tiles in a brick bond style, which creates a bigger emphasis on the dimension of the room, or in the chevron stripes style which elongates the space.
Tile Patterns and Designs
Instead of using just plain tiles, a combination of both plain and mosaic tiles work together for better aesthetics. For example, you can have mosaic tiles placed on the floor and strips of these mosaic tiles arranged horizontally between plain tiles on the wall. Alternatively, you can use patterned tiles as accents, as opposed to having them on the entire area. This can help reduce claustrophobic feelings.
The White Effect
The colour white has a perfect clean feel which is notorious for creating the illusion of space and openness. Using white tiles will, therefore, work for small bathrooms. At the risk of looking too clinical, adding bathroom wall and floor tiles with contrast colour strips give a more elegant feel.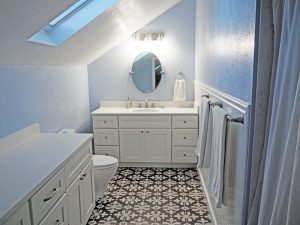 Use Tiles Reflective Surfaces
Light bounces off reflective tiles and being that a way to maximise space is to use lighter colours, reflective tiles give a 2 for 1 advantage for bathroom tile designs. This is because you'd be working with both the reflection and light, giving smaller bathrooms a bigger feel. Making use of marble tiles works for this option.
Tile Size 
Depending on usage and creativity, both large and small bathroom tile designs are good options for small bathrooms. While large tiles can deceive the eyes to make you believe space is actually larger than it is, small tiles work better for small bathrooms when plain and coupled with patterned or mosaic accents.
Floor to Ceiling Tiling
When designing bathrooms, some people tend to tile just the tub or shower area, while others tile just up to the lintel level to save costs or for aesthetics. For a small bathroom, tiling from floor to ceiling gives focus on the height of the space. Also using the same wall and floor tiles allows for a clever continuance illusion for small bathrooms.
Grout Lining Tiles
Grout lines separate tiles. The more grout lines you use, the more clustered a small bathroom might seem. If you're able to find the right balance by using fewer grout lines to lay large tiles and draw focus to the openness of the ceiling, this will essentially help in opening up the bathroom.
Thank you for reading this blog post. If you have any questions, do not hesitate to visit our contact page or call today on 01234 263080.