Mosaic tiles are a beautiful and versatile way to add a touch of personality to your home. They can be used in a variety of different rooms, including bathrooms, kitchens, and living rooms. They also come in hundreds of different shapes, styles and colours to brighten up any room and match your unique style.
When choosing mosaic tiles, there are a few things you need to consider.
Factors to Consider When Choosing Mosaic Tiles
Before you make your decisions, take a look at all the options. Your mosaic tiles will be the focal point of your room, so it's important to choose the right eye-catching style that works with your decor and suits your personality.
Size of the Mosaic Tiles
There are lots of different types of mosaic tiles and they come in all different sizes. It's important to study your space and work out whether you'd like a bold statement piece, or whether intricate patterns would work a little better.
For smaller rooms, bold statements can make the room look smaller, so small mosaic patterns might work out best. However, a larger room might be your opportunity to use large mosaic tiles to create a statement wall that draws the eye.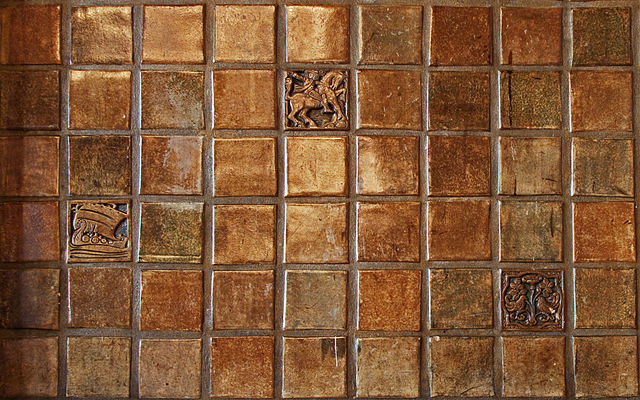 Consider the Shape of the Tile
When it comes to choosing mosaic tiles, it's a good idea to think about the shape of the tiles. Mosaic tiles come in squares, rectangles, diamonds or even triangles. The shape you choose can impact the effect that they have on the room. Installing mosaic tiles with a professional feel can also depend massively on the shape. Square tiles are relatively easy to install, but hexagons or triangles may prove a little more difficult.
Square tiles can form a neat and orderly appearance best for minimalist themes, whereas triangles might create more of a unique feature to impress your guests. 
Colour is Everything
The colour of your mosaic tiles is obviously incredibly important. You could choose to match the style of the room and make your space appear bigger with a neutral tone, or you could go bold and make a statement with a contrasting colour.
Mosaic Tiles can be Many Different Materials
The material of your mosaic tiles can make a huge difference to your room. Mosaic tiles come in a range of different materials from ceramic, glass, stone and even metal.
The material you use can affect the cleaning materials you can use and how long your tiles will last in a damp room such as a bathroom.
If you have a rough tile, then cleaning could be a little more difficult but they really do pack a punch when it comes to design.
Metal or glass tiles may require specific cleaning materials to leave them streak free, so you should be prepared for the extra maintenance to get that finishing sparkle.
Always Consider Cost
The cost of your mosaic tiles can vary depending on shape, design and material. It's important to understand your budget before you make a choice so you can select something that you love at an affordable price.
Beautiful Mosaic Tiles for Your Home
Here at Elstow Ceramics, we offer a huge range of mosaic tiles in various colours, sizes and shapes. We are specialists in mosaic tiles in Bedford and the surrounding areas and our team is passionate about finding you the right tiling solution for your home. There's something to fit every style and room and our helpful team is here to advise on tile installation to help you create the room of your dreams. 

For more information, contact Elstow Ceramics today!