Everyone loves a neatly tiled bathroom to come home to. It makes your house feel that little bit special. Tiles are a great fit on both walls and floors in your bathroom or ensuite as they're easy to clean, look stylish, and there's so much choice when it comes to design. So, how do you get started on tiling your bathroom?
Benefits Of Installing Tiles In Your Bathroom
Water-Resistance
Tiles are the best choice for water resistance. They hardly soak up any water at all, so you can be confident that they won't warp or change shape.
Cleaning 
A quick wipe over is all that's required to keep your bathroom tiles spotless. No need for hoovers or heavy-duty, expensive cleaning products. 
Maintenance
Tiles can crack if you drop something heavy on them, but that's pretty much all that can go wrong. You'll just need to refresh the grout every couple of years to keep off the mildew. Because tiles are so hard-wearing, it's rare that you'll have to put much effort into maintaining them.
Design
The designs are limitless. Bathroom tiles can be used on both floors and walls depending on your style, so you can always find something that complements each other to give you the exact look that you're after. They also come in multiple materials and textures so you can create a unique style for your bathroom.
Underfloor Heating
High-quality bathroom tiles (porcelain recommended) are the best choice for compatibility with underfloor heating, so you can add that touch of luxury to your bathroom. 
If you're already sold on tiling your bathroom, the next steps are understanding what type of tiles you'd like and how you can set up that perfect design.
What To Look Out For When Choosing
Bathroom Tiles
Choose your material wisely. Porcelain or ceramic tiles are the standard options that you'll be presented with at any bathroom showroom and they're both excellent choices. However, if you want to go a little more 'high-end' you could look at stone or marble tiles. Bear in mind that these will be less affordable, heavier, and they will be colder as well. 
Make sure that your bathroom is personal to you. You want it to reflect the luxury that you crave when you go on holiday. You need it to be a calm and relaxing space, as it's where you'll spend a lot of your time.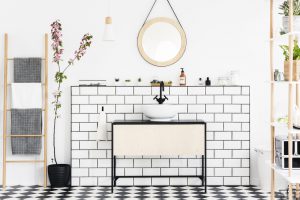 Try not to add too many colours and textures into the same room. There's just too much choice out there. Bathroom floor tiles and bathroom wall tiles are often interchangeable. Stick to a single colour on your walls and floor, or a colour on the wall and a separate one for the floor. Unfortunately, you can make a bathroom too vibrant using colours, so it looks cluttered and this takes away from a stylish design.
Why Should I Invest In Tiles For My Bathroom?
Investing in a great bathroom will add value to your home, as after the kitchen, it's the most attractive thing for potential buyers. You'll also want to spend that money to make the space your own. Create a bathroom space where you can relax and retreat, away from the stressors in life.  
Discover how Elstow Ceramics can help you create your dream bathroom with incredible high-quality tiles. Get in touch on 01234 263080 or head over to our contact form for more information.