Ultra Tile Adhesive & Grout used in West End hotel Renovation Project
Ultra Tile ProGrip HG and ProRapid RS are being used to fix tiles within The Strand Palace Hotel's luxury ensuite bathrooms.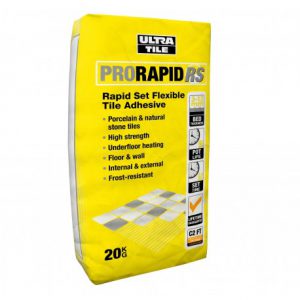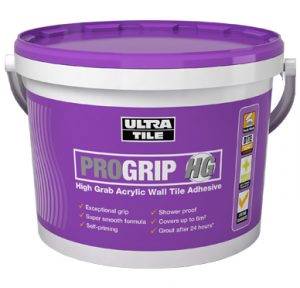 APL Interiors Ltd., a specialist hotel refurbishment contractor, are well on their way to completing a multi-million-pound renovation project of a central London hotel, The Strand Palace. Customers of Ultra Tile's 'official stockist' Elstow Ceramic Tile Warehouse in Bedford, APL Interiors Ltd. are completing tiling in the ensuite bathrooms using ProGrip HG and ProRapid RS.
Ready-mixed adhesive, Ultra Tile ProGrip HG is specially formulated with non-slip, high grab properties and is suitable for intermittently wet conditions. In the project, it is being used to fix the ensuites' gloss white ceramic wall tiles.
Ultra Tile ProRapid RS is a rapid setting porcelain adhesive suitable for wall or floor tiling applications. Decorative black/blue porcelain floor tiles are being fixed with ProRapid RS throughout all bedroom ensuite bathrooms.
All floor tiling applications are being finished with Ultra Tile WideJoint grout in grey. A grout developed specifically for tiles with joint widths of up to 20mm.
Ross from Elstow Ceramic Tile Warehouse states: "The quality of Ultra Tile adhesives and grouts is excellent." He also comments that: "Ultra Tile's delivery service is very accommodating, providing back-up on various occasions for our customers."
APL Interiors Ltd. has benefited from this support as their purchases from Elstow Ceramic Tile Warehouse are often delivered direct by Ultra Tile to their site locations, using Ultra Tile's award-winning delivery service.
For more information on Ultra Tile's range of tile adhesives, grouts and ancillaries, please visit www.ultratileadhesives.co.uk or call 01827 871871.
Contact Elstow Ceramic Tile Warehouse by calling 01234 263080.
To contact APL Interiors Ltd. please email aplinteriors@btinternet.com.