Selecting the right kitchen tiles or bathroom tiles is important for the design, but also the functionality. Your kitchen and your bathroom are both high traffic areas in your home and you need your tiles to be hardwearing, solid, and practical.
To make sure that you're making the right choice, there are a few essential things that you need to consider.
Tile Material
Floor tiles come in a wide range of different materials. The most used materials for floor tiles in bathrooms and kitchens are stone, ceramic, porcelain, and marble. To make the right decision for your home, you'll need to consider your intended room design and the practicalities of each type of tile material.
Stone Tiles
This is excellent for a shabby chic look if you have a farmhouse-style kitchen. However, they do soak up water if not sealed correctly and they can be quite difficult to clean. If you have pets or small children that are likely to make a mess, stone tiles are probably not the best choice. They can be quite cold in the mornings as well, so are not a great choice for bathroom floors. However, if you want a rustic look for your kitchen, stone tiles are the perfect material to use.
Marble Tiles
This is perfect to bring that luxury feel to your room. However, it can get quite slippery, especially when wet, so it's possibly not ideal for a wet room or room with a shower. Marble is also very durable so if anything heavy is dropped on the tiles you won't have to live with a cracked floor.
Ceramic Tiles
This is the most common material used for tiles in both kitchens and bathrooms. Ceramic tiles have a glazed finish, making it easy to clean and it's fairly non-slip, which is great for bathrooms. You can get them in pretty much any design and colour that you could imagine. They even work well with underfloor heating which is very comfortable on a cold winter's morning.
Porcelain Tiles
This is another popular choice, especially in more modern bathrooms. Porcelain has all the benefits of ceramic tiles; however, it can also emulate the features of wood or stone – making it a great choice for designs where you'd like a wooden floor without losing any practical features.
The Benefits Of Floor Tiles
Floor tiles are the most popular type of floor covering for bathrooms and kitchens. This is because they're flexible with style and they're hardwearing, so they can last a lifetime if you pick the correct material. They're also great for damp environments like these two rooms, as they don't soak up the water, so there's no danger of them becoming smelly or mouldy over time. Floor tiles also don't warp with water like wooden flooring would do.
Tile Size
Once you've worked out the practicalities of the material for your tiles, you'll need to consider how big you'd like your tiles to be to match your design choices. Keep in mind that, if your room is large, you'll need larger tiles. Smaller tiles are likely to add an illusion of shrinkage. Don't go giant in a tiny room though as this will make your room look smaller too.
Colour
The colour of your chosen tile is entirely dependent on your design choices. Darker tiles are in for 2021 to give a minimalist vibe that works well with pops of colour. Whatever you choose, it's a good idea to keep them neutral so you can change your bathroom design without having to retile.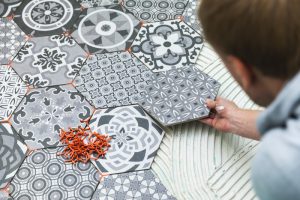 Grout
White grout isn't the only option these days. Darker grouts or metallic coloured grouts can transform a tile design. Try a gold grout with a white tile, or a copper grout with black tiles, for example. The colour of the grout can make all the difference and give you a brand-new look.
Shape
Don't limit yourself to standard rectangular tiles. Diamond shapes or honeycomb shapes are a great addition to any kitchen or bathroom to give you that unique, modern touch.
Whichever tiles you choose for your home, make sure you select the fashionable and functional choice to ensure they last. If you would like to find out more, please get in touch on 01234 263080 or head over to our contact page for more information.