Kitchens need to have a durable, hard and water-resistant floor free from stains. Tiles have these properties and a tiled floor always looks beautiful in the kitchen, as well as being easy-maintenance and hardy to wear. There are numerous types of tiles to use for your kitchen and below are some of the best ones to choose from, advised from our tile experts' experience and knowledge of popular styles. We also have a number of other unique floor tiles such as wood-effect tiles and mosaics, but the following are the most popular and durable – the best options for kitchens!
Porcelain kitchen floor tiles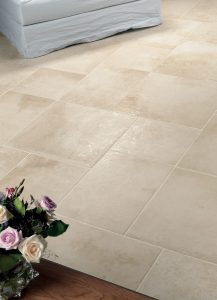 Porcelain and ceramic tiles are made in a similar way and therefore both provide comparable qualities.
They both are made from mixtures of clay fired at high temperatures to become very durable and hard tiles. Ceramic and porcelain tiles can be either glazed or unglazed.
This type of tiles has sand added to the clay mixture that is submitted to heat and pressure to make a tile that is denser, less porous and harder than the ceramic type. Kitchens are high traffic areas and usually need this type of flooring.
During firing, a glazed porcelain tile gets a glass-like coating that is applied to it to produce a coloured surface. The unglazed type has colour added to the clay mixture so the pattern and the colour are carried all the way throughout the tile. Unglazed porcelain tiles don't show scratches which makes them a great choice for your kitchen, however you will need special tools to install porcelain floor tiles, so do your research before fitting these or trust a professional to install them.
Regular ceramic floor tile
This type of floor tile is also referred to as non-porcelain. Ceramic tiles are glazed to create a hardy surface, although it is softer than porcelain. It can be created in virtually any colour. The glazing helps to create a surface that is resistant to splashes and spills common in the kitchen, and regular floor tiles are easier than porcelain to cut and install, making them a fantastic and flexible option for you kitchen floor.
Stone floor tiles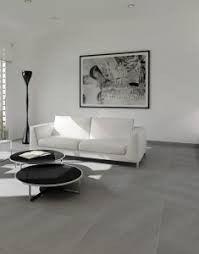 This type of tiles made from natural stone and include granite, slate, travertine, limestone and marble so can come in a variety of colours and textures to create a really unique feel to your kitchen.
Most stone tiles need to be refinished with quality stone sealer after two to three years because they are porous, and can come honed or polished. Honed stone tiles provide more traction although they have less vibrant look. Polished stone surfaces are typically slippery when wet but the full beauty of the stone material is unveiled by the polishing.
Choose tiles that can withstand your family!
Before you choose tiles to use in your kitchen you should ensure that the tiles can withstand pets, heavy foot traffic, the cleaning chemicals you use (or tailor your cleaning to your tiles) and any spilled foods. Also be weary that your old faulty cooker appliances can leak grease on to your new floors. We recommend having cooker insurance for when you need a replacement. Compare quotation offers with Insure My Appliance.
Whilst this might sounds obvious, we've seen it happen before – make sure you buy a floor tile that should be used on the floor! Wall tiles that should be used on walls used on the floor can be very slippery to walk on. You can make sure the floor tile you use has a slight raised pattern for a safer floor in the kitchen or used textured tiles such as stone tiles for a more elegant and refined look but with extra grip.
Limestone and clay based tiles can be fired to look like a natural stone, making them a practical as well as beautiful addition to your kitchen. Traditional ceramic tiles however are cheaper than stone tiles but if applied in the right way, stone tiles are really gorgeous. But of course, selecting the tiles to use in your kitchen also depends on your budget and what you want your kitchen to look like, but consider these tile options when you're looking to next renovate your kitchen floor!
To view our other floor tiles, click here.