We know that when customers first enter our showroom in Bedford – or any other showroom for that matter – the sheer volume of choice can be pretty overwhelming. There are such a large range of options, from ceramic porcelain and stone, to cement and glass tiles, all with different benefits we understand it can be hard to know where to start!
That's why we've put together a tile guide of these firve most popular tiles, so you can decide which one fit best in your price range and suit the look and functionality you're going for. From the cost to what it's made of and why you might choose it for your kitchen, bathroom or floor, after our guide you should be a total tile expert! Of course, any further question you have, feel free to contact one of our tile team who would be more than happy to offer you some more help and advice.
Ceramic Tiles
Cost: £10-£20 per m2
What is it? A blend of mud, minerals, and water are set at high temperatures to create ceramic tiles. Coated styles are then treated with a molten glass covering and set once more, making a hard, stain and scratch-safe surface. Unglazed tiles are in some cases referred to as "quarry" tiles.
Best for: Ceramic tiles are one of the most affordable types of tiles on the market and come in a huge range of colours and designs.
However: Handmade or custom designed ceramic tiles can get more expensive, and they are susceptible to cracking if hard objects fall onto them.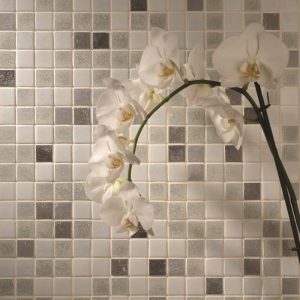 Porcelain Tiles
Cost: £15-£50 per m2
Best for: Use stain-proof and scratch proof porcelain tiles on floors, dividers, backsplashes. It's both easy to clean and comes in a wide assortment of styles.
However: Porcelain often requires and knowledge of the material and where it intends to be installed to choose the right one for purpose and fit them correctly, so do check with the maker or supplier.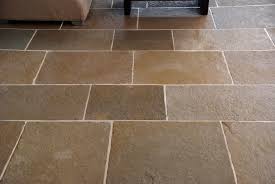 Glass Tiles
Cost: £35-£250 per m2
What is it? Thin bits of glass sold separately or as a mosaic, in some cases with other sorts of tile, on a work backing.
Best for: Dividers and backsplashes. Some glass tiles can be used on floors, but as they are more expensive are used more sparingly. The extensive variety of elegant designs and the glass shine gives glass tile the impressive "wow" factor that they are renowned for.
However: Glass tiles can be costly and hard to introduce. Since some tiles can be transparent, the wrong glue can be noticeable through the tile. Therefore, if you choose glass tiles, make sure you get them fitted professionally.
Cement Tiles
Cost: £20-£30 per m2
What is it? Handmade from cement and usually printed with a pattern, cement tiles— sometimes called encaustic or Cuban tiles in the U.S.— can be striking, pretty cheap and surprisingly modern looking.
However: They're expensive and don't give the same sheen as other tiles, so many not give the look and feel you want. Also, they are more unusual to fit, so your installer may not be accustomed to working with them. Likewise, cement tiles are inclined to being damaged by corrosive or harsh cleansers, and so may need more regular maintenance.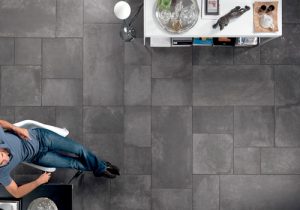 Stone Tiles
Cost: £20-£40 per m2
What is it? Bits of characteristic stone—rock, slate, travertine, marble, onyx, sandstone, are some common examples—are cut into thin, consistent pieces.
Best for: Use stone tiles as dividers,  for backsplashes, or for floors. They can give you the look of a rock ledge for less by utilizing stone tiles rather than a solid piece!
However: Most stone tile may be damaged over a long period of time by water, and may change discolour or corrode slightly, so may need more regular maintenance.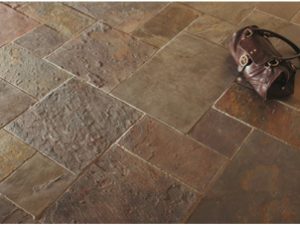 We hope you found our quick tile summary useful, and now have a better idea of some of the tiles that would best suit the various areas in your home. If you have any more questions, get in touch, or come on down to our tile showroom in Bedford where we can offer you more information on each type of tile and show you some of our extensive range.