Choosing furniture for your house can be a lengthy and difficult process, especially if you want to have a coherent design throughout your home. The same goes for the rest of the design factors, including tiles and wallpaper.
Have you ever thought about considering mirrored furniture and tiles? This article is all about how you can use mirrored furniture and tiles to enhance certain aspects of your interior design ideas, so read on to find out more about this little-used technique!
Why use mirrored furniture?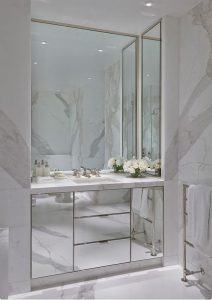 There are plenty of reasons why wooden furniture fits the bill for most interior design concepts. You can get it in so many colours and finishes that you're bound to find something which suits your style. But what about going for something a little different? Using mirrored furniture is a very modern way to decorate your room, and it's definitely going to turn heads as visitors come into your house.
Another good thing about mirrored furniture is that it's very easy to coordinate with other objects in your room. It's very neutral, so it will bend in to existing design you have in your house. It can add a really great modern edge to your home when used with whites and greys to make a real contemporary feel. Take a look at the mirrored furniture offered by Homes Direct 365 for some great contemporary ideas.
Don't think that mirrored furniture is only good for modern homes though, it can also be used in traditional homes for some really eye-catching effects. Canonbury antiques deal in some amazing antique mirrored furniture which can blend in well with period interior design.
What about mirrored tiles?
One step beyond mirrored furniture is having mirrored walls. As with mirrored furniture, this is a really underused technique in interior design.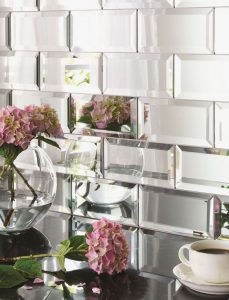 The main plus of using mirrored tiles is that it can make a room seem a lot bigger than it really is. This is perfect for small bathrooms, or if you live in a relatively small flat and want to make it feel more spacious. The same also goes for mirrored furniture, although the effect will be less powerful.
The type of mirror tiles you go for will really have an effect on the feel of the room. If you go for shiny, well-polished mirror tiles, you'll definitely be enhancing that contemporary vibe, but if you go for ones that are tinted with an antique finish, then you'll be adding a sense of history and character to the room.
You can have your mirrored tiles custom cut by a specialist such as this:
They also come in a lot of different pre-made shapes and sizes some of which we stock, so check with our specialists to find out what we have in store currently. Circular mirrors add a softer touch to the room, whereas geometric mirrors, such as hexagons or squares, will create a more contemporary feel.
So, what are you waiting for? If you can't decide what that little extra something your room needs is, or you need to make a room feel more spacious, mirror tiles and furniture are the answer you're looking for!