How to Clean Limescale from Bathroom Tiles?
If you live in a hard water area, then limescale is a problem that you might be familiar with. The white powdery deposits can build up in the corners of your bathroom, especially around your sink and in the shower. To keep that new bathroom feel, you'll need to be equipped to tackle limescale head on.
What is Limescale?
Limescale is calcium carbonate which is especially prevalent in hard water. When water dries, the calcium is left behind as a white chalky substance. It sticks stubbornly to taps, shower heads and tiles. For this reason, ceramic tiles are highly recommended for bathrooms.
This is because their shiny surface makes it more difficult for limescale to stick. This makes them better options than more naturally coated tile types such as marble or limestone. Plus, ceramic tiles are simply easier to clean than other tile materials.
Limescale can make your bathroom look old and tired and may also prevent you from adequate cleaning, especially when it comes to the tiles in your shower cubicle.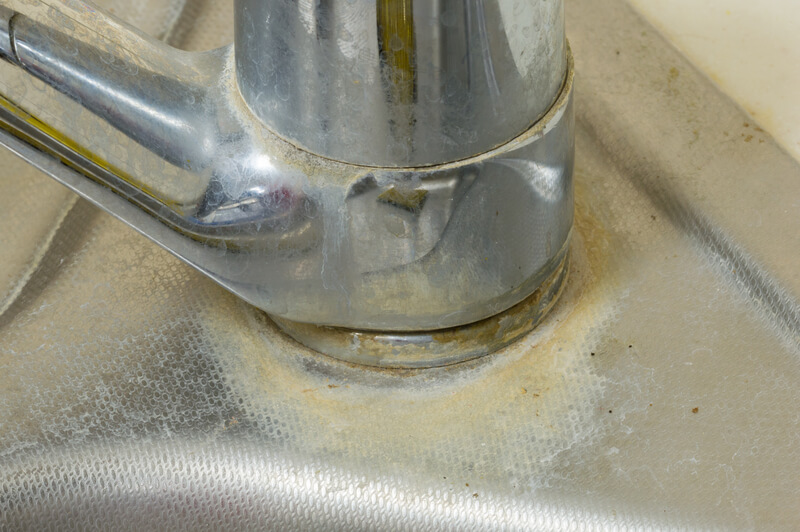 Removing Limescale From Bathroom Tiles Guide
Removing limescale from your bathroom tiles can be a long process, especially if you allow it to build up. Before you get started, there are a few things to consider:
· Use acidic products
Acid is limescale's enemy and there are some great homemade products that you can use which are more effective than the harsh, store-bought chemicals.
Try mixing white wine vinegar with baking soda. This mixture will form a paste which you can dab on to areas of tough limescale build-up. The acid in the vinegar dissolves the limescale and the baking soda restores the tiles to make them look clean and new with no water marks.
Just leave the mixture on for an hour and then rinse off with fresh water and dry with a towel.
· Select the right tools
If you have ceramic tiles in your bathroom, then you can afford to be a little rougher with your cleaning, which is a massive benefit for removing limescale.
Using a scrubbing brush or toothbrush to get into those hard-to-reach areas will be the fastest way to remove the limescale and won't damage your tiles or grouting. For larger areas you could try a rough sponge or scouring pad.
· Prevent further build up
Once your area is limescale free, it's essential that you prevent build-up in the future. Otherwise, you'll only have to go through the same process again in a few months. Limescale can build-up quickly if you're not careful.
Use a tile protection aerosol lightly sprayed over your tiles. The aerosol will add a thin film over your tiles making them more water-resistant. The water will run off your tiles more quickly, not having chance to dry out and leave the limescale behind.
Remember that prevention is much easier than the cleaning process. So, treat your tiles every few months with a limescale remover and prevention product. The more often you do this, the longer your tiles will stay looking shiny and beautiful. If you'd like to see our range of ceramic tiles, please give us a call, or fill in a form on our contact page.