Tiles are a functional, yet fashionable design choice for both walls and floors in bathrooms and kitchens. They're easy to clean and offer increased durability. Tiles are also not prone to damage if they get wet or overheat like carpets or wallpaper.
However, tiles can be seen as 'old hat' by some people. A great alternative is to maintain that ease of functionality while also adding a bit of spice and uniqueness to your design, which is possible with coloured grout.
Why Choose Coloured Grout?
Coloured grout gives your room a modern and stylish look and can revamp a tired bathroom or kitchen simply by applying a coloured layer to your tile design without the effort of having to re-do everything.
Coloured grout also retains its quality for longer. Plain white grout can easily grow mould or accumulate dirt. Having darker grout makes your room look cleaner and newer for longer without requiring heavy-duty scrubbing.
●
Black
Black tile grout with light or white tiles sets off a modern look and makes your white tiles look fresh and brand new. It also looks great with stone effect tiles to add a bit of edge to your style.
●
Metallic
Tile Grout also comes in metallic colours such as copper or gold. This is a great option for an industrial-style kitchen to set off copper furnishings or door handles. Metallic tile grout works well with both white or darker tiles, but for a true statement, go with dark grey tiles and copper grout.
●
Grey
A dark grey grout creates a softer bathroom. Rather than going all-out black with your white tiles, you might want to just freshen it up a touch with some stone-coloured grout. It creates a homely interior design.
●
Alternating
If you're feeling a bit adventurous you could try combining two different colours into your look. Against a white tile, you could add a few rows of black grout, fading gradually into grey, then back out to black again. If you're planning to lay tiles diagonally, rather than as a standard square formation, this effect is eye-catching and unique.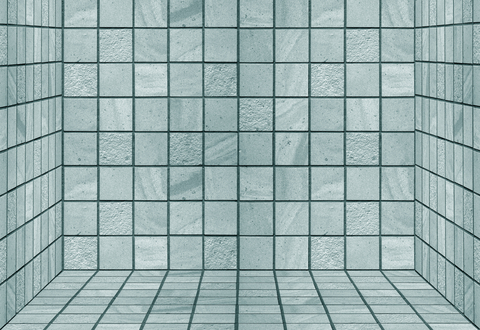 How To Change The Grout Colour
If you've settled on changing the grout colour, there are a few different options you could go for. It's not recommended to put new grout over old. This is because they may not stick together well, especially if they're different brands and you may end up with the newer grout falling off and creating a patchy effect. It doesn't look great, so instead, why not try:
●
Old Grout Removal
You can purchase specific tools from a DIY shop to remove grout from your walls. New grout is designed to be removed more easily, so scraping off the old stuff shouldn't cause you too many problems. If you're planning to re-tile from scratch, this is the option that you'll have to take, as your new tiles won't sit correctly on old grout.
●
Recolouring
If you're just wanting to spice up your existing tiles, you could always recolour the grout that you have now to give your room a new look with minimal effort. Special grout colourants can be purchased from your local DIY store or tile shop. You'll need to thoroughly clean off your grout and wait for it to dry. 
From there, apply a layer of colour with the applicator. Darker colours might require a couple of coats, but you should wait 24 hours in between each coat to ensure it's properly soaked in. Don't get the grout wet during this time and don't get the colour on your tiles as it will stain.
If you would like to browse our range of grouting products, click here. To speak to a tiling professional, give us a call on 01234 263080 or head over to our contact page for more details.