One question we get asked on a regular basis is whether one should adopt parquet or tiles for their en suite or bathroom. Be it your own room or someone else's, the desired look may differ. Not to worry. Here at Elstow Ceramic Tiles, we've been supplying a wide range of superb tiles around the world since 1983. All of our ranges are hand-selected to make sure we only supply the high-quality tiles available on today's market. So, if you're looking for the best tiles for your en suite, you've come to the right place!

The one question we want to ask is… Why wouldn't you want tiles in your en suite? They're hygienic, water-resistant and more importantly, they prevent you from super expensive maintenance and keep you away from allergies!
Choosing the Right Tiles for You
When selecting the tiles of your dreams, you need to make several key decisions, for example, colour, style, and where you wish to have them. You may be in a little bit of doubt regarding what type of tiles you may want to adopt, well here are some tiles with supply for bathrooms and en suites.
With such a large range of tiles, you're sure to find the perfect tiles for your en suite. There are tiles that many people prefer to have on the walls, floors and in their showers. But this is your en suite, so it's up to you. Ensuring you do your research beforehand or asking one of our friendly team members will guarantee you use tiles suitable for the situations you have them in. If you want to have tiles on the walls of your shower, you should consider tiles which are water-resistant and easy to clean.
Types of Tiles You Should Have on Your Walls.
Pizzazz hexagon mosaic tiles is a very prominent style, available in warm metallic tones, they're perfect for an eye-catching feature wall or a very stylish splashback. An added advantage to these tiles is that they're produced from recycled. In fact, they are made from 98% of recycled glass!
The second type of tile is Marble. Marble Tiles are a big trend this year, filling people's kitchen, bathrooms and even bedrooms across the globe. The gorgeous veining adds character to any wall space. Whilst on the pricier side, marble is a great way to add that elegant touch to any home.
Coast tiles are another great option for those looking to create that elegant atmosphere, with their natural style these stone effect tiles can create the perfect aesthetics for your en suite. Available in many cool shades and textures you're sure to create that perfect spa-styled sanctuary space in your bathroom.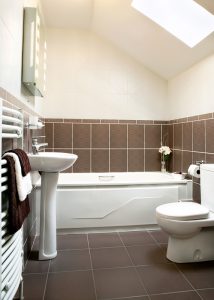 Types of Tiles You Could Use for Your Floor
Linoleum floor tiles are the perfect addition to anyone's en suite, their contemporary and retro style is perfect for those smaller scaled bathrooms.
Rokkakkei hexagon tiles are another very popular style of tile to have on your ensuite floor. Their prominent shape is very popular when it comes to furnishings and tiles, popping up in homes across the nation. Available in many colours and patterns, you can create that perfect floor for your en suite.
White oak wood effect tiles are perfect for those looking for that reclaimed wood look. If normal reclaimed wood is a little dark for your taste, take a look at our range of oak wood effect tiles, you're sure to find something to your taste.
We hope that you found this blog helpful and made your decision on which tiles to use in your en suite that little bit easier. If you have any questions or queries please get in touch on 01234 263080 or visit our contact page.